Electro-Forming
As a method of manufacturing products using electroplating, it attaches (plates) metal on the pattern by electrolysis till gaining thickness on the surface of master, separates it from master, and manufactures products having the opposite shapes from master.
Electroforming & Plating
Division
Electro-Forming
Electro-Plating
(Deposit Thickness
Several ㎛~several tens ㎜(Foil~Bulk)
0.1~0.3㎜(SRI-Tech Product)
0.1~30㎛ (Coating)
Substrate Adhesion
To make easy exfoliation(separation)
is important
To make no exfoliation with high
Substrate Adhesion is important.
FORMING
The products manufactured using electroforming are used in the various industrial fields owing to the characteristics to be manufactured using transfer method. In addition, there's superiority in using for exterior/interior, decorations & logo badge of cell phone, home electronic appliances & motors.
Material

-

Copper

Color

-

Metal having red gloss

Characteristics

-

Non- allergy ( NI -> CU )

-

High nobility logo & character realization by transfer of hologram.

-

Various specifications to be realized on the surface of the products
(Hologram, corrosion feeling, Paper Hairline, Dia Hairline, gloss & mixing expressions of all these)

-

Vivid characters & outline
Features of Forming
- Realize high-class surface feeling & various designs of the existing Ni products.
- Ensure new technology without liquation of Ni component.
- Ensure reliability (By Samsung, Korea Testing & Research Institute, FITI and so on)
- Completion of the domestic patent application (Under preparation of the foreign patent)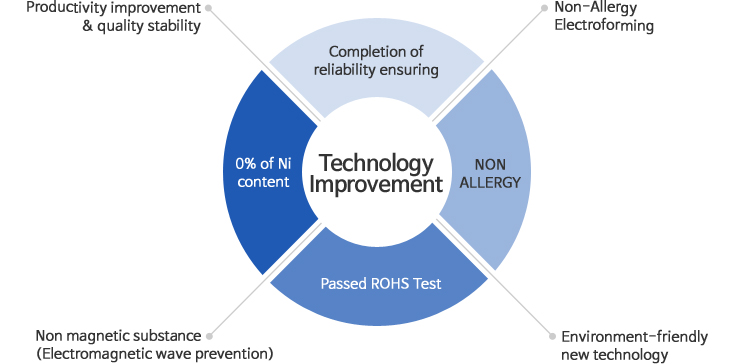 Components of Electroforming
Basic manufacturing constitution of Electroforming
Basic manufacturing constitution of Non-Allergy Electro-Forming
Characteristics of Ternary alloy
Aim

-

Cost reduction [Ensure cheap plating having the similar property of matter because of high price of Pd plating]

-

Ensure reliability [Replace to plating cheaper than Pd with more reliability]

Characteristics

-

Replace Pd plating to silver-white plating color.

-

Non allergy reaction

-

Superior throwing power & corrosion resistance.
: Like the general alloy plating, it has beautiful color and superior corrosion resistance because of uniform particles with almost no pores.

-

Free to ROHS without containing of Pb brightener unlike the existing ternary alloy solution.

-

Require AAS or CIP instruments for controlling solution.

-

Have difficulty in controlling than single plating solution because solution changes color according to component content, current density & temperature.

-

Have composition of Cupper (70%)+Tin (20%)+Zinc(10%)
Electro-Forming TANK